NEWZ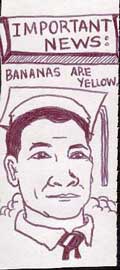 12/7/2006: These are the albums I am currently listening to:
Simon Joyner - Beautiful Losers
RIngo Starr - Blast From Your Past
Jeffrey and Jack Lewis - City and Eastern Songs
10/29/ 2006: Woodside Lanes Review - Urban Folk Issue No. 8

"Somewhere between the ultimate demise of his Modern Lovers, and before the begining of his solo recording career, Jonathan Richman, spent years traveling around, signing kids songs at elementry schools, where he felt his wide-eyed songwriting would be best appreciated. A decade and a half later, in between his Noise Addict days and his slick- pop- rock albums, Ben Lee recorded a couple of ultra low-fidelity albums on his 4 track. Both Jonathan and Ben wrote simple songs about the Ice Cream Man, turntables, and the insecurity of going shirtless at the beach. Both sounded like they were nostalgic for an idyllic past that never existed.
Thomas Patrick Maguire sounds like that childhood Ben Lee is finally old enough to go to the pub. Still ultra lo-fidelity, still simple songs, with a little less wide eye wonder on songs like "Christian Mob", and "My Own Personal Earthquake". This is mostly guitar and vocal, but still summery, with some lyrical passages consisting only of oohs and aahs. My only real complaint is that (excepting opener "The Remedy") "Woodside Lanes" lacks the drums that move TPM's previous CD, "Pissing Streams," aling at a steady pace."
10/27/2006: These are the albums I am currently listening to:
Beck The Information
Randi Russo- Shout Like A Lady
Tom Drake- love, unwound
Drew Torres and The Gusto - 3 Song CD
The Hurricanes- Risque De Choc
Guy Clark- Workbench Songs
Guy Clark- The Dark
Guy Clark - Old No. 1 & Texas Cookin'
Glen Campbell- All Time Favorite Hits
Hank Thompson & His Brazos Valley Boys- Vintage Collections


9/17/06 - Review of Woodside Lan(d)es in
Thomas Patrick Maguire - Woodside Land


I remember finding Mr Maguires last record slightly endearing in a shambling lo-fi kind of way. And it's good to see that he has stuck to his guns.
It's all very Lou Barlow acoustic, the kind of thing you thought sunk with the good ship nineties, but when he bumps into a good tune as on "Negative Hill", "My Hands Were Tied" and others, it's rather engaging.
One for those who yearn for the days of storytellers gone by.
9/72006: These are the albums I am currently listening to:
Sufjan Stevens-Illinios
Bob Dylan- Modern Times
Thom Yorke - The Eraser
Dr. Dog- Takers & Leavers
Isobel Campbell & Mark Lanegan - Ballad of The Broken Seas
T-Bone Burnett - The True False Identity
Public Enemy- Power to The People & The Beats
The Replacements- Don't You Know Who I Think I Was ?
Beirut- Gulag Orkestar
John Fogerty- The Long Road Home
9/6/2006: Check out The Creek and The Cave Podcast, recorded on 6/6/06. This podcast features: Thomas Patrick Maguire
Jerome, Paul Alexander, Tom Drake, and others.


8/17/2006: These are the albums I am currently listening to:
Coming Soon -Coming Soon
Howard Hughes & Coming Soon - Brotherly Loved
Bear Creek- Twirl It Like A Magic Wand
Antsy Pants- Antsy Pants
Travelling Wilburys - Volume I




7/5/2006: What I am currently reading:

Cornell West - Democracy Matters: Winning the Fight Against Imperialism
Peter Doggett - Are You Ready for the Country




7/5/2006: These are the albums I am currently listening to:

Bruce Springsteen - We Shall Overcome The Seeger Sessions
Bruce Springsteen - Nebraska
Catpower - The Greatest
Sonic Youth- Rather Ripped
Hearth- 3 Song CD
Bob Dylan- John Wesley Harding
Bob Dylan - Nashville Skyline
Brian Speaker - The Revolution of One
Huggabroomstik- Sloppy Kisses & Serious Guitars
Built to Spill- You in Reverse
The Stone Roses- The Complete Stone Roses
Willie Nelson - Country Man


3/22/2006: What I am currently reading:
John Fante - Ask The Dust

3/21/2006: These are the albums I am currently listening to:

The Baby Skins - For A Boy With A Fractious Skull
East River Pipe - What Are You On?
Setsuo - Cosmic Vibrations
Johnny Cash - Unchained
Hearth - Live In The Studio 02.17.06
Zach James- Prayers For the Cinders
Belle & Sebastian- The Life Pursuit
Thurston Moore- Psychic Hearts
Swiss Kiss - EP
Willie Nelson- You Don't Know Me : The Songs of Cindy Walker
Willie Nelson- Stardust
Merle Haggard -A Musical Anthology

3/1/2006: What I am currently reading:
Paul Auster- The Brooklyn Follies
David Hajdu - Positively 4th Street
1/20/2006: These are the albums I am currently listening to:
Bert Jansch - Bert Jansch

Brook Pridemore- First Name/Last Name

Chap Your Hands Say Yeah - Chap Your Hands Say Yeah

Frank Black- Honeycomb

Joanna Newsom- The Milk- Eyed Mender

Richard Swift- Collection Vol. 1

Gary Higgins- Red Hash
1/15/2006: Check out Jon Sebastian's Podcast on Viper Bite Radio. Thomas Patrick Maguire is featured
in VBR #8.
1/10/2006: Check out LaMusica.com, for a profile about Thomas Patrick Maguire




1/6/2006: Thomas Patrick is featured in the top 10 of "Local Top 10, Best of The Bands Next Door " section of
New York Newsday by Rafer Guzman
8. Thomas Patrick Maguire, "Woodside Lanes" (Luv-A-Lot)

"The enigmatic song-poet of Queens delivers another disc of moody folk-pop and weirdly compelling lyrics (check out "Christian Mob" and "Negative Hill"). Maguire may be spinning his wheels a bit here, but he remains utterly hypnotic."
-Rafer Guzman