NEWZ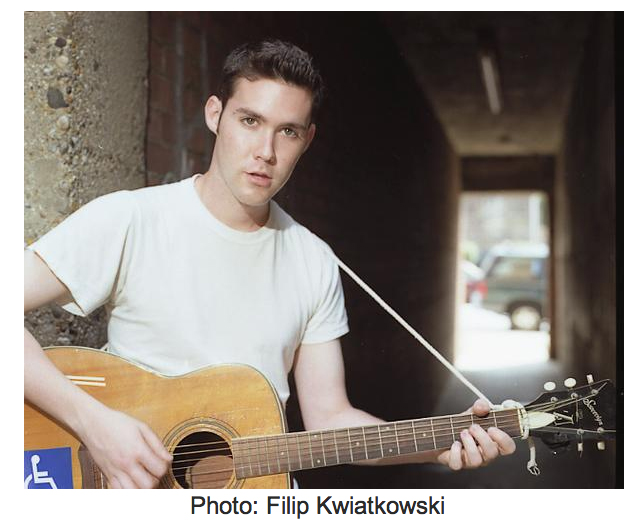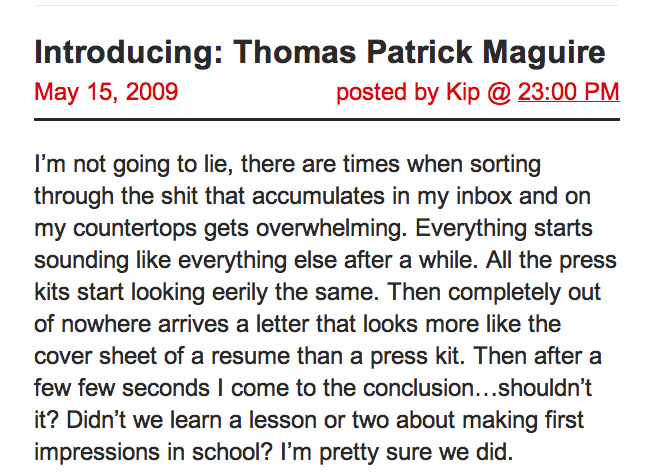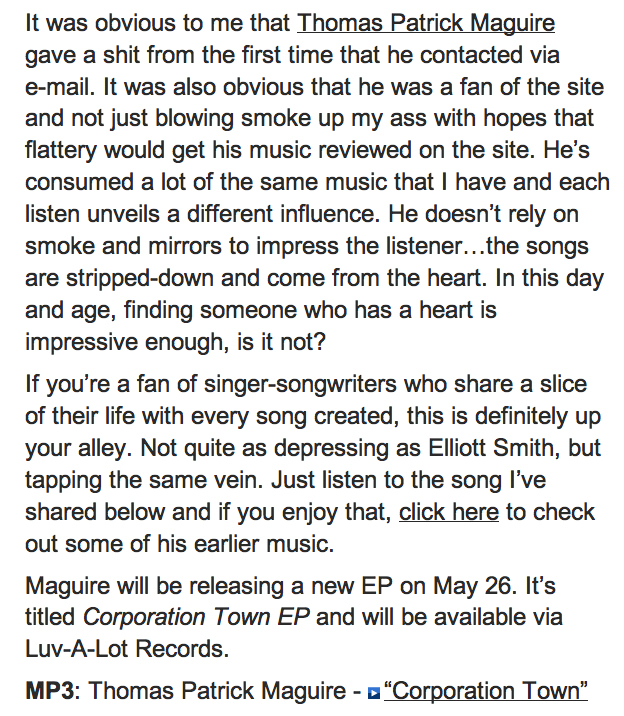 Check out the review on Rocksellout.com
4/26/2009: Thomas Patrick Maguire's new Ep (Corporation Town EP) will be released on May 26th 2009 with Luv-A-lot Records. Song titles include:
1. Corporation Town
2. Worn Clothes
3. Invitation to Leave
4. I'm Listening to Jon Sebastain
5. Divorce Man
4/20/2009: What I am currently reading:
Howard Zinn:A People's History Of The United States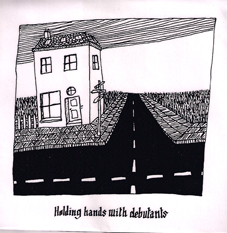 4/14/2009: Check out the new Applejack #5. It features a compilation cd entitled "Holding hands with debutants" which includes Thomas Patrick Maguire's "My Hands Were Tied" plus songs buy these great artists:Jack F.E, Ucis of the Dead, Member of the Wedding, Bonsai Projects, Überaffe, O'Messy Life, Edam Edam, Moustache of Insanity, and The Johns. To get more info go here:
www.myspace.com/dearapplejack (please make this a link)


4/18/2009: These are the albums I am currently listening to:
Dibs- Bleeds Books
Beck- One Foot In the Grave
The Human Hearts- Civics
Tody Goodshank- Pray to You
The Fools- Only the Fools
The Fools- The Bowery Poetry Club
Costello- Costello
Bob Dylan- Dylan and the Dead
Crystal Stilts- Alight of Night
Herman Dune- Next Year in Zion
Fucked Up- Hidden World
Wavves- Wavvves
Pavement- Brighten the Corners
The Jon Spencer Blues Explosion- Extra Width
3/1/2009: These are the albums I am currently listening to:
Tom Waits - Beautiful Maladies
Prewar Yardsale- M104
Schwervon!- Low Blow
Heavy Hands - Smoke Signals
Weird Owl- Ever The Silver Cord Be Loosed

2/9/2009: What I am currently reading:
Everett True Nirvana: The Biography

Dean Wareham Black Postcards: A Rock & Roll Romance
1/29/2009: Check out Schwervon!'s music video for "Balloon" featuring Major Matt Mason USA, Nan Turner, Joe Crow Ryan, Preston Spurlock, The Kellys (Joanna, Luke, Neil), Babs Of Queens, Deenah, Thomas Patrick Maguire and many more.

1/21/2009:Thomas Patrick Maguire's cds are now available for purchase through Olive Juice Music Distribution

1/19/2009: These are the albums I am currently listening to:

The Beets- Spit On the Face of People Who Don't Want to Be Cool
Pajo- 1968
Hole- Live Through This
Fugazi- Red Medicine
The Doors- The Soft Parade
Robert Pollard- Coast to Coast Carpet of Love
Black Lips- Good Bad Evil
Steve Earle- El Corazon
The National -Alligator
Bon Iver -For Emma, Forever Ago
The Walkmen- You & Me
My Bloody Valentine- Loveless
The Velvet Underground- Loaded